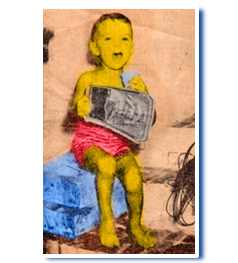 One Way to Beat the Heat!

Three-year-old Billy Dawson, son of Mr. and Mrs. W. R. Dawson, of Cherokee road, has one way of fooling ole Dol. Billy wasn't so "hot" about the whole idea, but he manages to keep a cool head under the most trying sit-uation. In case you're interested in trying it the ice cream is for cooling off internally; the fan is just an auxiliary. The ice–well–!

The Dawson Group
Seaside, Florida


A little bit about us … The Dawson Group was founded in 1986, the food/hospitality division owns Dawson's Yogurt & Fudge Works, Heavenly Shortcakes & Ice Cream and Pickle's Beachside Grill are located in Seaside, Florida. Bill Dawson, nicknamed Sweet Williams, has been in the sweets business for over 30 years. Together with his wife, Heavenly Dawson, the pair established four very popular family-friendly establishments in a town they like to consider paradise.



Wild Bill's our newest and tastiest addition | Seaside, Florida, classic American beach town


The Town of Seaside, Florida, located on the Gulf of Mexico in Northwest Florida, is a favorite vacation spot for tens of thousands of visitors who flock to the area known as Beaches of South Walton each year. The charming beach town is widely known for its developers' new urban architectural concept and its role as the location for "The Truman Show" movie.