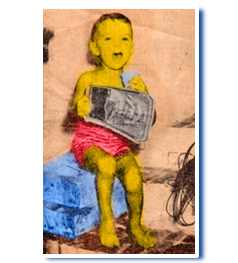 One Way to Beat the Heat!

"Three-year-old Billy Dawson, son
of Mr. and Mrs. W. R. Dawson, of Cherokee road, has one way of fooling ole Sol. Billy wasn't so "hot" about the whole idea, but he manages to keep a cool head under the most trying sit-uation. In case you're interested in trying it the ice cream is for cooling off internally; the fan is just an auxiliary.
The ice–well–!"

- The Florence, South Carolina
Morning News (many years ago)

The Dawson Group
Seaside, Florida


A little bit about us … The Dawson Group was founded in 1986 by its chairman, Bill Dawson. Friends and business associates have affectionately dubbed him Sweet William for his 20-year love affair with the confectionary business.

Bill and his wife Heavenly own and operate the food/hospitality division's four popular family-friendly establishments in Seaside, a town they like to call home and paradise. You're invited to experience Seaside's unforgettable charm and enjoy tasty treats seven days a week at Dawson's Yogurt and Fudge Works, Heavenly Shortcakes and Ice Cream, Pickle's Beachside Grill and Roly Poly Rolled Sandwiches.


Seaside, Florida, our classic American beach town.

Seaside overlooks the sparkling Gulf of Mexico in Northwest Florida, and the town is a treasured attraction for tens of thousands of visitors who flock to South Walton's breathtaking beaches each year. The town's refreshing new urban architectural concept made its now famous debut in the memorable hit movie, "The Truman Show", starring Jim Carey.

Bill started his retail career in Atlanta, Georgia after finishing college and serving as an officer in the U.S. Army. His passion for merchandising management and inventive product creations led him to JC Penny in New York City, and later into a partnership with Russ Berrie and Co., where he transformed the plush toy retailer into a profitable, publicly traded company.


Dining under the Magnolias at Pickle's Beachside Grill.

The Dawson Group is a multifaceted marketing company that enjoys continued success in creating and launching consumer products for the gift and collectibles industry. Bill has also successfully architected and implemented two large national in-house sales forces, one for Russ Berrie and Co. and one for Ganz, a Toronto-based gift company best known for its popular Webkinz® brand of plush toys.

Heavenly Dawson has served as the Dawson Group's president and CEO since 2000. Originally from Tampa, Florida, Heavenly started her career in the dental industry and later moved into the gift business where she became highly successful in sales management. She now oversees a team of competent managers and more than 70 employees under the Dawson Group umbrella who continue to provide outstanding service, refreshments and souvenirs to thousands of new and repeat customers year 'round.